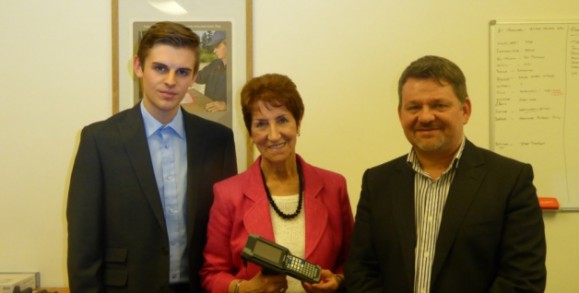 N2 Apprentice Gets Mayor's Seal of Approval
A young apprentice is hoping to have found the right solution to his career.
 Lewis Nagel has been taken on by North Shields-based IT solutions company N2 Limited after completing a pre-apprenticeship course at TyneMet College.
After being given a three -day trial by N2's managing director Terry Nall, Lewis was offered an apprenticeship in December 2013.
Lewis said: "I really enjoy the work I do and I have been trained in so many areas.
"I really feel like part of the team. I am very grateful for everything I have been doing so far in this apprenticeship and being given the opportunity to work for N2."
Mr Nall said: "We had a very specific profile of the type of person we wanted to join the team and Lewis fitted this profile perfectly.
"It was important that the taking on of an apprentice was a two-way partnership and that we offered our apprentice appropriate training, a variety of work and involved them in all aspects of the company."
"We feel that young people are our future and we want to play a part in helping young people obtain the skills and confidence to be part of the business world and enjoy their job.
"Lewis has worked so hard and I have seen him literally grow in confidence."
Mayor Norma Redfearn said: "I was delighted to meet with Lewis and the N2 Limited team, who are supporting him in his apprenticeship.
"I have an apprentice in my own office and the authority is currently recruiting a further 50 so we hope there will be plenty of other young people in North Tyneside who have the same opportunities as Lewis."